How much time do you spend researching a company online before you do business with them? Now imagine the amount of time your leads spend doing the same. All of that activity represents an incredible amount of information regarding prospects' interests, intent, and engagement.
Which products did the lead research? What content did they spend the most time with? How often have they visited and how engaged are they?
The answers to these questions are what allow salespeople to approach and sell to prospects more effectively. Woopra for Salesforce enables your sales team to get those answers directly within the CRM they are already using.
Lead Activity Directly in Salesforce
Woopra for Salesforce embeds a Woopra customer profile, which details every single action a lead has committed on your website or application in real-time, directly within Salesforce's lead and contact records. This behavioral insight enables sales teams to instantly understand a prospect's engagement, convert trial users, spot at risk accounts, and more.
Predict What Leads Are Looking For
Knowing what a lead has done on your website or application is often the most telling insight into what they are looking for. For example, your sales team can instantly know:
What a lead has searched for
How often a lead visits and how recently
If the lead went to your website after you called them
What products a lead viewed and researched
Where a lead originally came from (their referrer)
Which marketing campaign led them to the product/service?
Which content a lead engaged with most
What emails they received from your company
Convert Trial Users
If your company offers a free trial or pilot, then you know this period is crucial. By understanding how a trial customer is using (or not using!) your product, your sales team can help move them along to full conversion.
For example, your sales team will instantly know:
Which key milestones a trial user has and has not accomplished
A trial user's overall engagement with your product (lack of usage is a major warning sign)
A trial account's product adoption among individual or multiple users
How a trial customer is using your product and what value they are seeing from it
Where a trial user has had trouble or has gotten stuck
Woopra is helping to drive customer success within the customer data analytics market by leveraging the power of the Salesforce Platform to seamlessly integrate behavioral insight and CRM, ultimately transforming the way companies connect with their customers.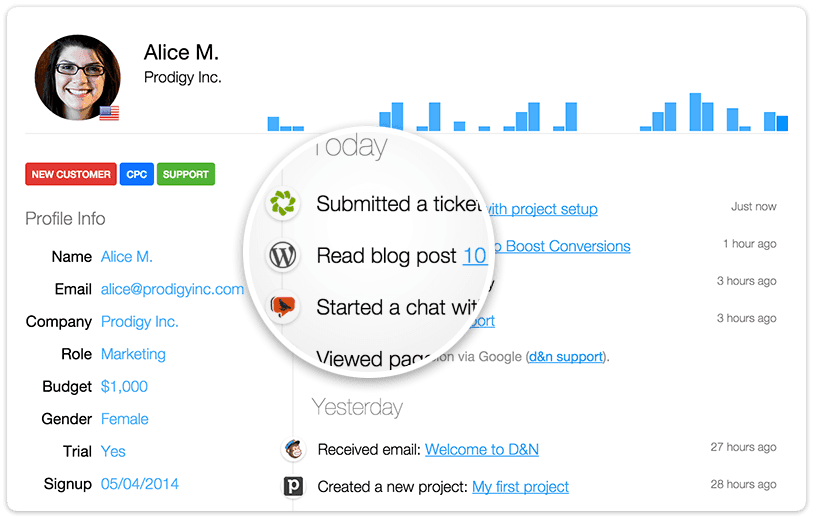 ---
Learn More Today
Get in touch with us today to learn more about how you can instantly give sales teams the lead insight they need to stop guessing and start closing.