Have you noticed that your customers interact with your brand multiple times before purchasing? Maybe they sign-up for a newsletter to get a 10% off coupon, followed by reading a blog article, look at your product pages, go back to your blog, and finally make a purchase.
These interactions are all a part of your customer's journey and only one of many examples of how your customers might interact with your company while moving through the customer journey stages.
Not only that, but there are marketing opportunities well beyond the initial purchase. There are still opportunities to foster the overall customer experience and their interactions with your brand. Up-sell another product, encouraging them to tell a friend or get them to interact with your brand by promoting blog articles.
Customer journey marketing isn't an entirely new strategy; however, organizations have realized the importance of the journey-based approach to improving their customer's experience over the past few years.
Woopra's products are designed to support organizations with understanding their customer's journeys through valuable product analytics and customer analytics tools.
This article will dive into what customer journey marketing is, how to utilize it best, and how your marketing should map to each one of the customer journey stages.
What is Customer Journey Marketing?
The customer journey combines all of your customer's interactions at various touchpoints with your business/brand over time. By understanding the progression that your customers take across multiple touchpoints, you can begin to know where along the journey, you are either creating barriers or opportunities for your target audience.
Touchpoints can be anything from opening an email, seeing an ad, going to your social media pages or receiving a survey. Every interaction your customer has is a touchpoint.
Tracking this data on your own is not easy. Using customer journey analytics, you can quickly and efficiently see data that can help smooth out your customers' journey and create a path of least resistance.
Also Read: Effective Customer Journey Design
The benefit of analyzing your customer journey is that you can better understand your business, products/services, and customers. These are just some of what you can find out once you've mapped a customer journey:
Have a better understanding of what is holding back your customers from purchasing.
See which touchpoints are causing customers to drop off the journey map.
Understand how successful the onboarding process is for retention.
Know if the up-sell or cross-sell techniques are working.
Create a logical order for the journey map.
Uncover which customer segments are performing the best.
Marketing During Each Customer Journey Stage
The following uses the marketing funnel framework in conjunction with the three customer journey stages, encompassing everything from building awareness to advocating for your brand. Let's go through the three main stages of the customer journey: Acquisition, Activation, and Adoption.
Acquisition
At the acquisition stage, your audience is likely unaware of your business. However, the buyer is on the hunt for a solution to their problem.
You'll want to engage in a brand awareness strategy that helps your target audience understand your value right away and how you can solve that problem. A company could do this through various touchpoints such as Google or social media ads, implementing SEO, downloadable PDFs to offline billboards and flyers.
A buyer who has engaged with an ad or another touchpoint without exiting has now turned into a lead.
These people are taking the time to find out more about your business and the products or services you offer. They do this by actively seeking you out, most likely heading to your website where they could be reading blogs, signing up for a newsletter, or asking questions via a chatbox.
At the end of this stage, they are transitioning into a prospect, which means they are a potential buyer for your particular product or service and are considering making a purchase.
You'll want to show how you differentiate from your competitors through your key benefits and showing you are the experts. That could be through a phone call, sending a proposal, a retargeting campaign, product demos, trial periods, or giving free samples.
Activation
At the activation stage, the prospect has purchased your product or service; they have now become a customer or user of your business, taking them further along the customer journey stages.
For an eCommerce or on-demand service, the first part of the activation stage is the purchase. It is essential to make the check-out cart and purchasing process as easy as possible for the customer so they don't get frustrated and purchase somewhere else.
During this stage, you'll want to provide the customer reassurance and confidence that they made the right decision, which is where a successful onboarding process or quick interaction with the customer is highly important.
Successful onboarding is especially vital for B2C and B2B companies, that could be anything from automated onboarding to personalized onboarding for higher-touch customers.
The most important of the activation stage is your first opportunity to turn your customer into a promoter of your business rather than a detractor. As such, it is essential to analyze the success of your activation strategy through surveys and feedback, using that information to continually improve it.
Adoption
At the adoption stage, your customer has the chance to become a repeat client. It is vital to nurture the relationship and show you care about their business with you; this is your chance to delight the customer by learning more about them and offering them new personalized products, services, or discounts.
Alternatively, it could improve their already current services to entice them to continue with subscription renewals.
Also Read: Customer Journey Template
Transactional businesses will generally keep a thorough profile of each user to match these personalized offers better, whereas a SaaS business will more often send out satisfaction surveys.
At this stage, clients also become promoters/advocates; they already trust you and want to tell people they know about your company. You can support this and other areas of the adoption stage through touchpoints such as loyalty programs, customer dashboards, referral bonuses, easily shareable content, and other actions that get them involved with your brand.
It is important to remember that each of these interactions your customers have with your company, from ads, social media posts, and the onboarding process to referral bonuses, are all touchpoints that help advance users through the customer journey.
By using the customer journey stages as a framework and Woopra's customer journey analytics, you can discover which touchpoints are helping move users through the stages or not and make the necessary adjustments.
What Does the Customer Journey Mean for Businesses?
Not all customer journeys are the same, which is why every business should take the time to map out the unique steps their customers take. Some companies may have multiple buyer personas, which means there could be multiple customer journeys.
This process may seem daunting, which is why Woopra helps companies find their various touchpoints and lays them out in detailed Customer Journey Reports, which you can see in the next section.
SaaS Company Customer Journey Report

A SaaS company would have a customer journey similar to this, where all their various touchpoints are mapped out, and you can easily see what is working well and what isn't. Woopra does this by taking a customer's data from multiple channels within the company and uses SaaS Analytics to turn it into useful reports to discover:
What healthy customers look like in terms of engagement and activity
The product features that drive the most engagement
How subscription revenue is trending based on plan type and company type
Below is an example of what a touchpoint could look like from the Customer Journey Report, a "Free Trial Signup." A typical SaaS company incentive, like on the FreshBooks website, where they have added not just one of these buttons but numerous to add the least amount of friction, so their customers continue along the customer journey to eventually sign up for the accounting software.

Finance Company Customer Journey Report

A finance company that sells insurance or the stock market services may have a customer journey map that looks like this one. Woopra also has analytics solutions for banking and finance companies, where Woopra will do the heavy lifting of compiling their data into reports, helping them find out:
The financial products that clients are most interested in
Frequency of clients logging in to their accounts to check their portfolio performance
The marketing campaigns that bring the most qualified leads
The following is a real-life example from the Finance Company Customer Journey Report above showing the "New Visitor Registration" touchpoint. This financial company, WallStreetZen, has a two-step process to register new visitors as a customer for their stock research tool. Once a customer has finished these steps, they would be moved to the next journey touchpoint, "Complete Profile."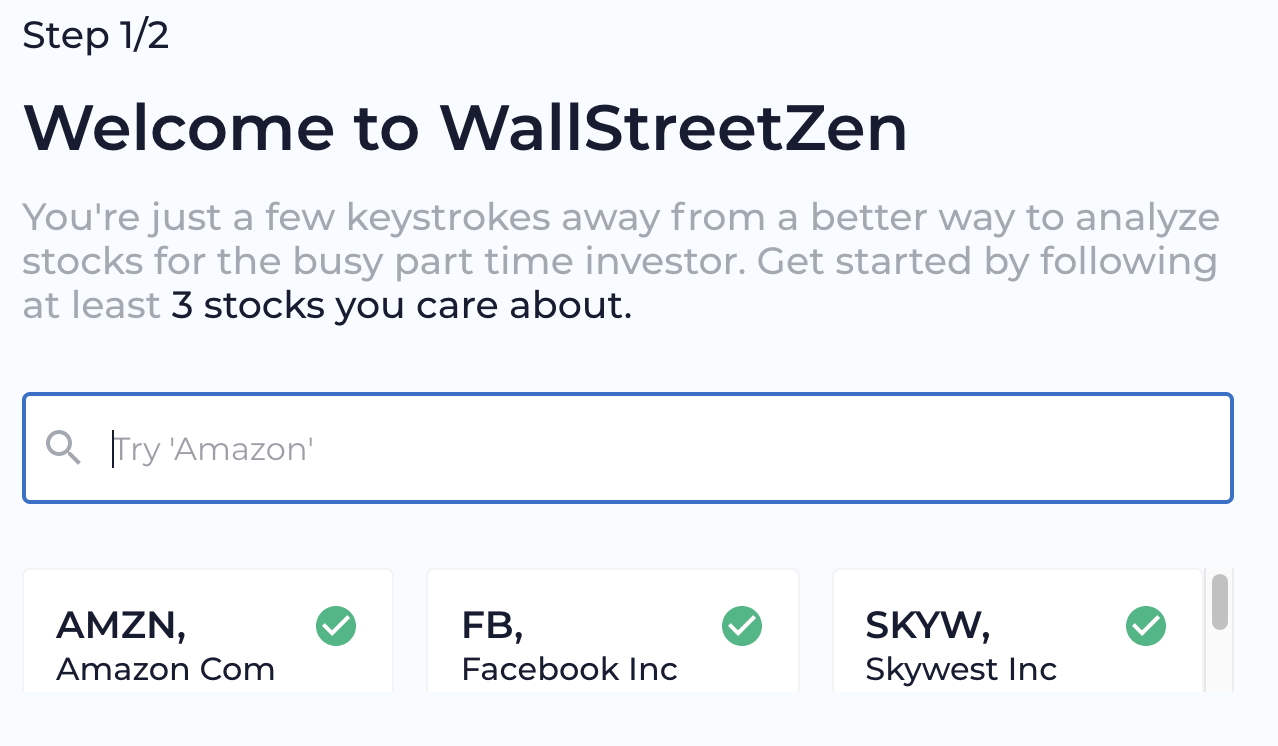 Content Company Customer Journey Report

Whereas companies that rely on content creation to drive growth would look at Customer Journey Analytics for content and media to find out how readers are consuming content, what content they are reading, and overall help create loyal followers. Again Woopra looks at company data across various channels and compiles it into reports to find out:
How often users share and comment on the various content
The most popular authors
The topics visitors are most interested in
Another touchpoint example from the customer journey would be a "Welcome Email." Suppose you are a company that produces targeted content to drive growth. In that case, having a welcome email after they sign-up for a newsletter or a dashboard helps to assure the customer they are a part of the community, like what this company does below, Loganix, who offers SEO packages. It also moves the customer to the next stage of the customer journey.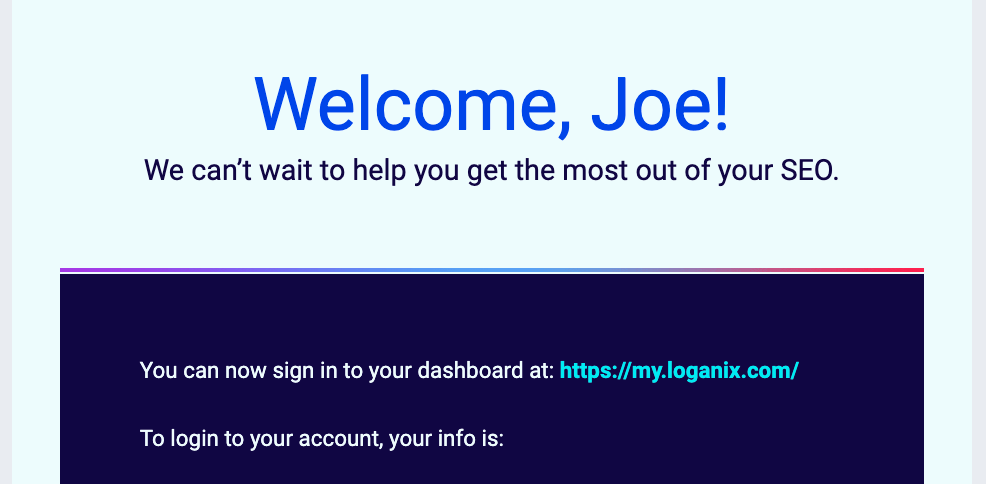 However, before you start mapping out your unique customer journey, you have to understand the various stages of the marketing funnel that, ideally, the customer journey should mirror.
Customer Journey Marketing Tips
While your real-life marketing efforts and your customer journey map may not always perfectly align, they should work in conjunction to create a user-friendly path that ensures you are utilizing your marketing components at the appropriate stages and to the right leads.
Here are a few tips for utilizing the customer journey stages in your marketing:
Customize The Journey
While the customer journey marketing framework is a great starting point, you may not focus on each stage equally. For example, some companies are great at activation, but terrible at acquisition. If that is the case, customize your marketing efforts so that they focus on the stages that YOUR company's customer journey needs to improve.
Have Defined Goals
At each stage of the journey, you want to ensure you define your customers' specific goals once they get there. By making goals, you'll have a much easier time creating content for each stage and content that will actually help encourage your customer to reach the specified destination.
Compare your Customer Journey Map To Your Actual Marketing Efforts
Once you've mapped out your customer journey and created a marketing experience unique to your business, compare them. If they don't match up, you'll need to make some adjustments to your funnel based on the customer journey.
Summary
The process of mapping your customer journey and aligning it with your marketing efforts can be challenging. Yet it's highly worth the time and effort.
The key takeaway is that the customer journey culminates in all the brand touchpoints that lead users through the acquisition, activation and adoption stages.
Woopra helps ease the customer journey process by providing the customer analytics data that empowers your decision making. You can then focus on creating the best user and product experience for each stage and, in the end, make a customer journey that delights your customers and grows with your business.